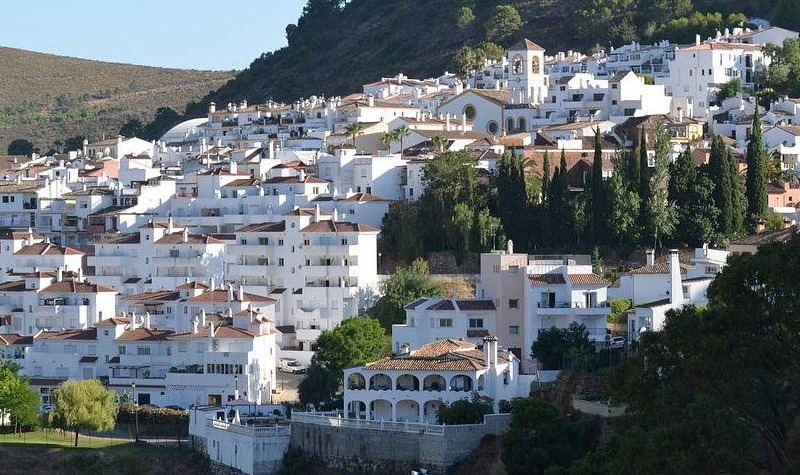 The Costa del Sol's Elite: Benahavís and Marbella
Benahavís and Marbella are consistently top-tier when it comes to property prices in Spain. Looking to invest in a dream home somewhere in these areas? With Property in Malaga's strong local network and 25 years of experience, you can reap the benefits of working with the best. Simply submit this form, and we'll assist you with all your property needs.
Setting the Bar in Real Estate and Rentals
Once more, Benahavís and Marbella have secured their positions as the most luxurious localities for real estate and rentals in Spain during Q1. Prices in these Costa del Sol areas overshadow the rest of the country. Moreover, seven locations on the Costa del Sol have secured their spots among the top 25 in Spain, dominating the charts.
The Cream of the Crop: Benahavís
Benahavís is no newcomer to the high ranks of real estate pricing in Spain. In Q1 of this year, it maintained its top position, with average property prices exceeding €1.6 million. This figure creates a noticeable gap from second-place Calvià in Mallorca, where the average price per property averages €1.2 million. Marbella closely follows, standing in the third position with median prices surpassing €1 million.
It's essential to acknowledge that properties in exclusive areas like La Zagaleta and Sierra Blanca frequently sport multi-million-euro price tags.
Costa del Sol's Commanding Presence
The Costa del Sol's dominance is evident, with seven of its localities occupying the top 25 spots. Coastal resorts from Sotogrande to Rincón de la Victoria have made the list, with Sotogrande in the fourth position, boasting average prices of €860,000.

The Rental Market's Elite
Three localities on the Costa del Sol topped the charts for the priciest rental properties in Spain. Benahavís claimed the first place, with Marbella following and Sotogrande completing the top three. The average monthly rental rates in these locations were €2,813, €2,294, and €2,217, respectively.
Again, private rental prices often extend far beyond these averages, especially in premium locations like La Zagaleta and Sierra Blanca.
Upward Trends in Estepona and Mijas – Rentals in Estepona saw a considerable average price increase in Q1, averaging €1,633 a month, while apartments in Mijas also observed dramatic rises in average price, with a monthly rate of €1,158.
Property in Malaga: Your Costa del Sol Experts – If you're seeking property on the Costa del Sol, trust our seasoned team to pinpoint the perfect match for your needs. Operating since 1992, we offer unparalleled insights into the Costa del Sol property market.
A Steady Rise in Benahavís Property Value – Benahavís property continues to rank among Spain's most expensive. In 2022, it led the country, closely followed by Marbella, Sotogrande, Estepona, and Mijas. The Costa del Sol's prominence as one of Spain's standout property locations remains firm.
Price Breakdown: Benahavís and Marbella
In Q4 of last year, Benahavís held the title of the priciest real estate in Spain, with an average sale cost of €1.86 million. Its high-end market is renowned, with properties for sale in areas like La Zagaleta among southern Europe's most costly.
Marbella secured third place, with an average property cost of €1.31 million, notably in elite districts like the Golden Mile and Sierra Blanca.
More Costa del Sol in the Top 25
Almost all of the top 20 most expensive places in Spain were on the Mediterranean coast, with the Costa del Sol contributing heavily. Sotogrande, Estepona, Mijas, Alhaurin de la Torre, and Benalmádena rounded out the region's representation, with homes ranging from €400,000 to €962,000.
Whether you're seeking the perfect retirement home, an investment opportunity, or a luxurious rental, Benahavís, Marbella, and other Costa del Sol locations offer remarkable options. Let Property in Spain's Most Desired Real Estate Locations Once again, Madrid's city centre has secured its position as Spain's most coveted area for real estate, claiming the top rank. Furthermore, four suburban areas of the capital city are also featured within the top ten most sought-after locations.
The Costa del Sol's representation in this ranking was solely through Malaga City, which secured the 13th position. This continues to affirm the city's burgeoning reputation on the Spanish real estate landscape. – Also see Property for sale in Costa del Sol
Interested in Acquiring Property in Benahavis?
If the idea or dream of owning a home in Benahavis appeals to you, explore our Area Guide, then reach out to contact us. We offer an extensive selection of properties, ranging in price from apartments in luxury complexes to grand villas in elite developments like La Zagaleta.
Benahavis: A Blend of Natural Beauty and Luxury Living Nestled in the Serranía de Ronda, near some of Costa del Sol's finest beaches and golf views, Benahavís encompasses a vast and well-preserved municipal area. This region combines the Spanish Mediterranean's diverse natural allure with a selection of high-end homes situated in hillside developments with golf views.
Location Benahavís extends from the Taraje River reservoir, northwest of Estepona's N340 coast road, to the foothills of the Sierra de las Nieves Natural Park. Spanning 145 square kilometres of sunlit hills facing west towards the Mediterranean, it offers jaw-dropping views of Gibraltar and Morocco's coast on clear days.
Three significant rivers crisscross the municipality, weaving through the terrain and adding to the scenic beauty. The road leading to Benahavís unveils dramatic vistas of Costa del Sol and its contrasting landscapes, including deep canyons and lush valleys.
Most of the region remains untouched, dotted with olive trees, Mediterranean flora, and various wildlife. It is a haven for nature enthusiasts, offering an appealing blend of tradition and luxury.
Development While the core of Benahavís retains the tranquil charm of a typical whitewashed village, the surrounding hillsides conceal exclusive residential estates like La Zagaleta, El Madroñal, and Marbella Club Golf Resort, boasting golf courses and luxury amenities.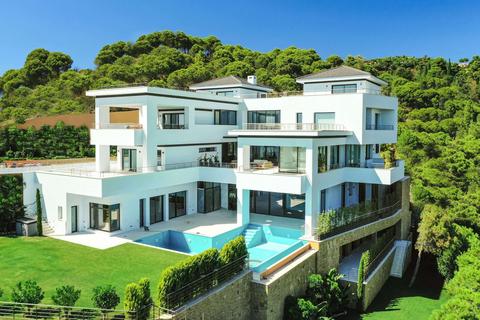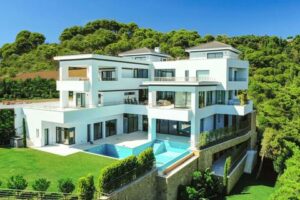 Frequently Asked Questions
What is Benahavís famous for?
Benahavís, one of Spain's renowned white mountain villages, offers breathtaking coastal views, luxury golf courses, and fine dining options. A nature-lovers paradise, it also offers beautiful homes and recreational opportunities, combining rural charm and tranquillity with upscale living.
What is Benahavís like?
Benahavís is a picturesque Andalusian village surrounded by mountains, with traditional architecture and a blend of Spanish and Expat residents. With a slightly cooler climate due to its elevation and proximity to the Mediterranean coast, it offers year-round sunshine and comfort.
What is there to do in Benahavís?
Benahavís is a hub for outdoor enthusiasts, providing hiking, climbing, and canyoning opportunities. The town is also home to 12 luxury golf courses, sports complexes, and leisure facilities, offering a healthy and active lifestyle for residents and visitors. Whether it's playing sports, enjoying concerts, or relaxing by the pool, Benahavís has something to offer for everyone.
Why Benahavis?
Situated only 7 kilometres from the shoreline of Costa Del Sol, Benahavis, a municipality, is renowned for hosting some of Spain's most distinguished resorts and highly-desired real estate properties. Spanning an area of about 150 square kilometres, Benahavis is famous for being among the wealthiest municipalities in the nation.
Connecting the coast to the mountains and situated between the perpetually glamorous municipalities of Marbella and Estepona, Benahavis has a unique charm and personality that might astonish you. With its mountain ranges, river valleys, and expansive pine forests, this area is a tranquil sanctuary and one of Costa del Sol's most attractive regions.
Benahavis is home to over 4,500 international inhabitants, including nearly 40% who are British. With the privilege of enjoying more than 320 sunny days annually and the convenience of two international airports (Malaga and Gibraltar), it's easy to see why the area has caught the attention of many prospective expatriates.
Whether you desire the opulence and privacy of a golf resort, a traditional Andalusian village experience, or something that combines both, you're sure to find the ideal location and way of life in Benahavis.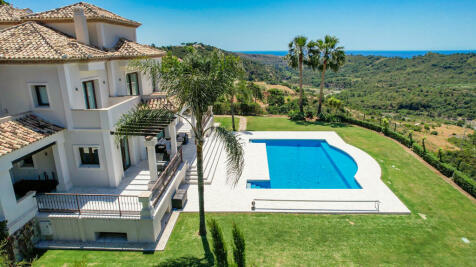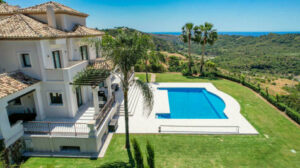 La Zagaleta – The Gem of for sale in Benahavis No mention of for sale in Benahavis is complete without highlighting the exceptional La Zagaleta, regarded as one of Europe's premier resorts and beyond. It embodies three core values: privacy, exclusivity, and safety. If you're in search of the pursuit of the pinnacle of luxurious real estate, look no further.
The resort features expansive villas set among breathtaking natural landscapes, including deep valleys, wooded areas, and transparent mountain streams. Panoramic vistas extend over two immaculate golf courses and reach the magnificent Mediterranean Sea. The plethora of essential and luxury amenities within the resort might make leaving seem unimaginable.
The two private golf courses, "The Old Course" and "The New Course," offer contrasting challenges. The former exudes classic grace, while the latter is famous for its dramatic inclines. Both courses have clubhouses, and other facilities include Riding Clubs, tennis and paddle courts, bars, gourmet restaurants, boutiques, and a pro shop.
La Quinta – A Family's Ideal Resort La Quinta Golf & Spa Resort is positioned at the core of Costa Del Sol's Golf Valley, a short drive from Puerto Banús and Marbella. Embraced by the stunning Sierra Blanca mountains, the resort offers various residential real estate options to fit different budgets.
Facilities at La Quinta include three nine-hole golf courses, a golf academy, a spa, a gym, paddle tennis courts, a pool, a side pool, a kid's club, a play park, three restaurants, and a cafe. Numerous services are available to residents to ensure comfort and personal and help maintain properties during absences.
La Alqueria – Embodying Andalusian Authenticity Located close to stunning beaches and Puerto Banus's luxury, La Alqueria is an upscale residential estate primarily consisting of large, private villas within the Atalaya Golf and Country Club.
Famous for its low-density development, properties for sale here are spacious and spread out, offering stunning views. The area resonates with a peaceful ambience and an authentic Andalusian feel, thanks to the stone construction from nearby Casares quarries.
Residents can access a variety of facilities such as beach clubs, spas, tennis clubs, and the luxurious Villa Padierna resort hotel. An international bilingual school in Nueva Atalaya adds to La Alqueria's appeal for Expat families with children.
Benahavis Property Trends Driving the Costa del Sol property market alongside Estepona and Marbella, Benahavis has witnessed a significant transformation in buyer profiles. Tech entrepreneurs and finance professionals have largely supplanted retirees, focusing on factors like reliable broadband and international connections rather than just golf or sunshine.
Benahavis's growth can be partly attributed to affluent buyers' flexibility in location preference within the Golden Triangle, with emphasis on stunning views over a specific area, except, of course, when it comes to La Zagaleta.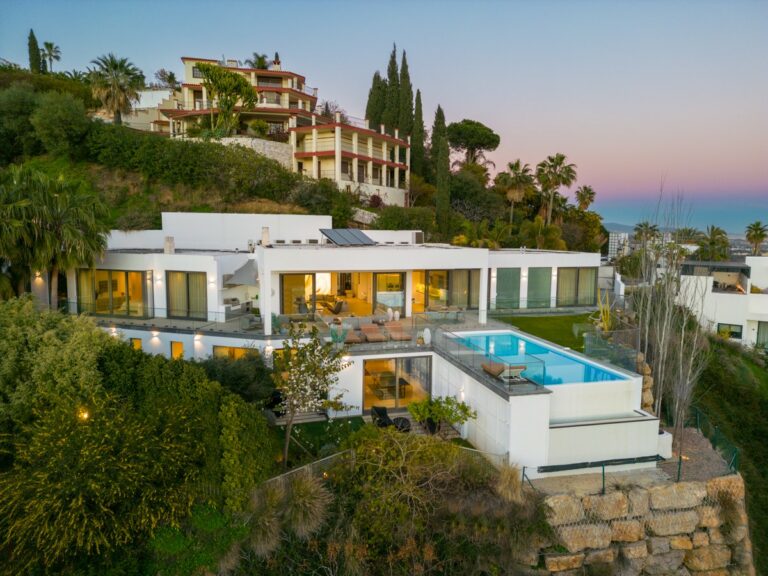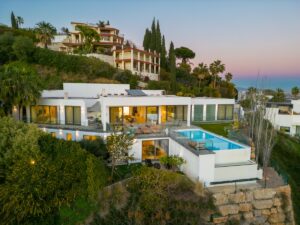 El Herrojo Alto villa, La Quinta Golf – A Secure Retreat Set within the exclusive gated community of El Herrojo Alto villa, in La Quinta Golf, villas here are synonymous with safety and luxury. These homes stand out not only for their architectural excellence but also for their thoughtful design, providing an exclusive living experience.
Benahavis, La Alqueria, Villa – Panoramic Beauty The villas in La Alqueria offer sweeping views of both the golf course and the Mediterranean Sea. The immaculate designs are complemented by the beautiful natural surroundings, enhancing the visual appeal. The spacious properties allow residents to savour a sense of peace and tranquillity, with the details in every villa reflecting an essence of Andalusian charm.
The Evolution of Property Demands Benahavis, along with neighbouring areas Estepona and Marbella, is steering the property trends of Costa del Sol. Unlike in previous years, the current market is more diversified, driven by a younger, tech-savvy generation who often can work remotely. The desire for year-round sunshine or proximity to golf courses is no longer the primary consideration. Instead, buyers are prioritizing factors like reliable internet connectivity, accessibility to international airports, and quality international schools.
The Prestige of La Zagaleta In the context of luxury real estate, La Zagaleta holds a special place in Benahavis. This resort offers unparalleled privacy, exclusivity, and luxury, catering to those seeking the ultimate in high-end living. The sprawling villas, magnificent natural landscapes, and world-class amenities make La Zagaleta a coveted destination for the affluent.
A Growing Expat Community Benahavis's appeal is broadening as the town increasingly attracts international residents. The rich cultural diversity, favourable climate, and convenient accessibility to essential services are contributing factors to the growing popularity of this location among expats. The blend of luxurious resorts and authentic Andalusian villages offers varied lifestyle options, making Benahavis a top choice for many looking to relocate.
Benahavis Real Estate Outlook The real estate market in Benahavis shows promising signs of growth and stability. With a diverse range of properties, from opulent villas to traditional townhouses, there's something to suit every preference and budget. The increased interest from international buyers and the shift in buyer profiles towards younger professionals indicate a bright future for Benahavis's property market.
The integration of modern amenities with the authentic charm of Andalusian culture creates an appealing blend that resonates with a wide audience. Whether one is looking for a luxurious golf resort or a more culturally rich village experience, Benahavis offers a multitude of options that cater to varied tastes and lifestyles. – See: property for sale in Marbella
Where is Benahavis Located?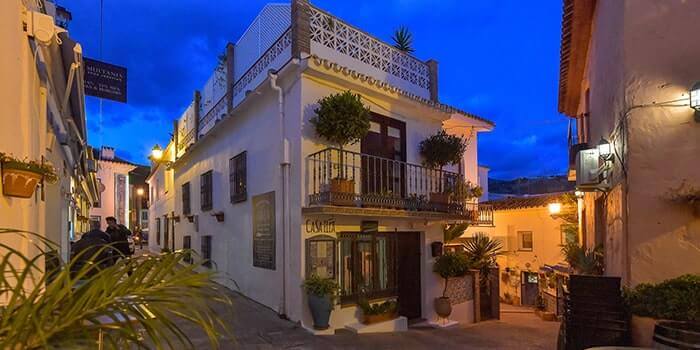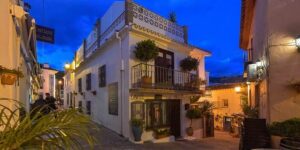 Situated inland on the Costa del Sol, 8 km from the Mediterranean Sea, Benahavís is nestled between Estepona and Marbella. You can reach both Estepona and Marbella within 30 minutes by car. From Malaga Airport, it's less than an hour's drive to Benahavís, and the Gibraltar International Airport is just slightly over an hour away.
If you're driving from Malaga airport, be aware that the AP7 toll will cost approximately €8. Alternatively, the A7 is toll-free but tends to be congested and subject to heavy traffic at certain times. For a more scenic drive, an inland route offers a quieter and more picturesque experience, albeit 10 minutes longer.
While a bus route is available from Malaga airport to Benahavís, it is somewhat complicated, involving three buses and nearly two hours. Shuttle services and taxis are available, ranging in cost from €30 to €100.
Though it may feel like an isolated village, Benahavís is easily accessible. From London, you can be enjoying the sunny Mediterranean mountain view, or play golf, in just four hours.
What is the history of Benahavis?
Founded in the late 11th century, Benahavís is named after King Havis, the ruler of Montemayor Castle at that time. The castle's strategic position played a crucial role in the ancient battles between the Arab kings of Andalusia. Visitors can still explore the castle's ruins and its vast underground passages once used for the transportation of soldiers and supplies.
The castle and village were seized by Christians in 1485 under Ferdinand and Isabella, marking a significant turning point in the region's history.
Are there any good restaurants in Benahavis?
Known as the Costa del Sol's gastronomic corner, Benahavís is renowned for its culinary offerings. With a variety of four and five-star rated restaurants, such as El Castillo and the Amanhavis Hotel, the village provides a rich culinary experience. Local, French, Belgian, and Mediterranean cuisines can be found here.
Both tourists and Spanish locals frequent the village's restaurants, making it a vibrant dining scene, especially on weekends and summer evenings. Most restaurants are conveniently located in the village's old centre.
What hiking and walking paths are there in Benahavis?
Benahavís offers a plethora of hiking opportunities, ranging from a leisurely stroll around town to challenging mountain paths. Local experts provide guided tours to scenic sites, rock pools, valleys, and canyons. Trails are available for all activity levels, including the long 73-kilometre trek around Benahavís or the popular 4.5 km hike known as the SL-A 276 Acequia del Guadalmina.
Are there beaches close to Benahavis?
Although Benahavís is a mountain village, beautiful Costa del Sol beaches are a short drive away. Among them, Playa de San Pedro de Alcántara and Saladillo Beach are popular choices. Additional options include freshwater rock pools for swimming and cliff jumping, and the well-known Puerto Banús, 18 minutes from Benahavís.
Is there a golf course near Benahavis?
Home to 12 golf courses, Benahavís is a golfer's paradise. Courses designed by international award-winners cater to various terrains and skill levels. From luxury residents-only courses to the valley-situated Montemayor Golf and Country Club, golf enthusiasts will find plenty to enjoy.
Is Benahavis a good place to buy a property?
Benahavís offers attractive investment opportunities with steady property value appreciation. A wide range of housing options, proximity to city centres like Marbella and Malaga, and abundant amenities make it a desirable community. From villas to affordable flats, Benahavís is an appealing place to live.
Is Benahavis expensive?
Despite being home to some of Spain's most luxurious estates, the sale in Benahavís offers affordability. Properties in benahavís range in price from multi-million euro estates to two-bedroom flats under €200,000. Additionally, the municipality maintains low property tax rates and overall cost of living, making it accessible to a wide range of budgets.
Is Benahavis a good place to retire?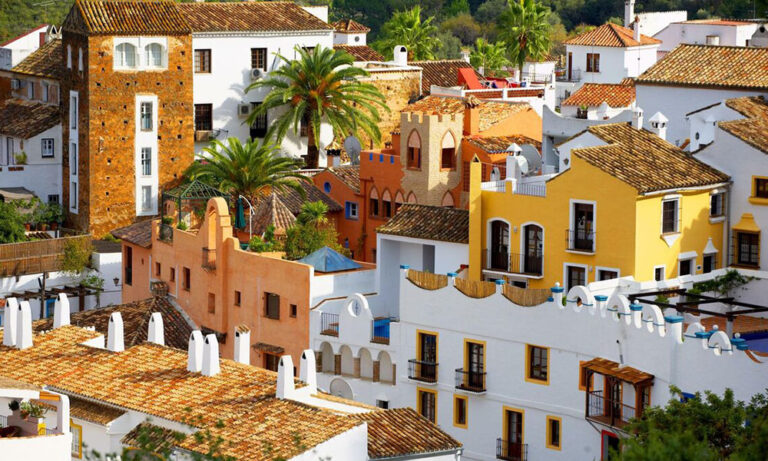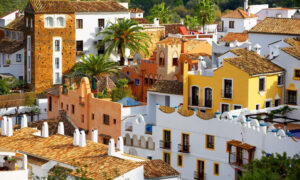 With over 300 days of sunshine, a diverse community, and a multitude of activities, Benahavís is an idyllic retirement destination. From golfing to horseback riding, culinary experiences, and healthcare accessibility, it's a town that blends luxury with affordability. English-speaking services and a close-knit expat community enhance the appeal for retirees.
Overall, Benahavís offers a rich blend of history, culinary delights, recreational activities, and housing options. Its proximity to beaches, affordability, and warm community make it an attractive place for living, investing, or simply enjoying a visit. Whether you're there to explore the historical sites, dine at renowned restaurants, hike the beautiful trails, or lounge on the nearby beaches, Benahavís promises an unforgettable experience.
Welcome to the heart of Costa del Sol, where the allure of Malaga's rich culture meets the luxury of coastal living. As your trusted English state agents in this beautiful region, we offer exclusive access to prime real estate opportunities, from vibrant city apartments to tranquil coastal villas. Our speciality, however, lies in the picturesque municipality of Benahavis. If you're seeking a unique blend of traditional charm and modern luxury, then explore our exquisite selection of Benahavis properties for sale.
Benahavis is a hidden gem nestled between the famed cities of Marbella and Estepona, known for its scenic beauty and exclusive resorts. With Benahavis property for sale, you have the opportunity to invest in some of Spain's most sought-after real estate, offering everything from golfing paradises to serene mountain escapes. Whether you're looking to settle down or invest in a holiday home, our expert team is here to guide you through every step of the way, making your dream of living on the Costa del Sol a beautiful reality. Contact us today to discover the best of what Benahavis and Malaga have to offer.